Description
LED driver 30W 12V
Small-size LED driver 30W 12V that is suitable for e.g. 12V DC LED strips, 12V DC LED downlights, 12V DC LED spotlights, etc. The height of this LED driver is only 17 mm and length 156 mm. Quite suitable for small LED installations, for example breakfast LED strip. Regarding safety it has fault protection and overload protection.
Dimming LEDs
This driver cannot be dimmed but you can install a LED dimmer normally between the driver and light source. As usual in several LED drivers, this one also has a small squeakiness feature when used with a LED dimmer. However the squeakiness is not as significant as in some other models. Squeakiness occurs when the light output is at about 80%. If you install this somewhere far away for example on the ceiling paneling or if you cannot hear high frequency sounds, it will not be a problem. If you don't install an LED dimmer, the driver remains silent and you won't have to think about squeakiness at all. But if you have super accurate hearing and the driver has to be absolutely silent, then check out this GLP 35W 12V silent model.
Benefits: small size, cheap, carefree
Installing LED driver
This LED driver is suitable for e.g. 12V DC LED strips, 12V DC LED downlights, 12V DC LED spotlights, etc. Enough power for e.g. 2,5 meters of COB 10W LED strip. Regarding safety it has fault protection and overload protection. Fault and overload protection function with a power cut principle. It means that in a problem situation the LED driver will start to cut the power and makes the lights blink. Power cut continues until fault has been fixed.
The protection works the same way in other high quality LED drivers as well. The LED driver keeps itself cool with the surrounding ventilated air, so install it in such a place where the warmth coming from the driver gets to blend with surrounding air.The driver must not be placed in a tight shoebox where the air will warm up and eventually trigger the overheat protection of the driver.
Sufficient LED driver output
This LED driver's maximum output is 30 Watts and operating voltage is 12 Volts. When you are thinking about a suitable driver for LED installation, it is recommended to pick a LED driver with a little more output than what the maximum load is going to be. We have a great blog post about choosing LED drivers and power outputs and you can find it here.. The output of this driver is enough for e.g.:
Max 5-6 meters of 4.8W LED strip
Max ca. 2,5 meters of 10W COB LED strip
Max 5 pcs of 5W LED downlights
Max 5 pcs of 5W LED spotlights
Max 8-9 pcs of 5W LED spotlights
Other info:
Screw connectors
Coupling with 0.75 mm² wires
Safe to use with no load.
Dimensions and coupling instruction:
A general safety distance of LED drivers with surrounding materials is 25 mm for both above and sides. Usually this is not a problem even in low roofing. A more typical problem in low roofings is whether the driver will fit through the mounting hole onto the celing paneling. The length of this driver is only 156 mm, so it fits well through for example a 60 mm mounting hole of the light onto the ceiling paneling. If there is a place for the driver near a service hatch then the problem is easy to solve.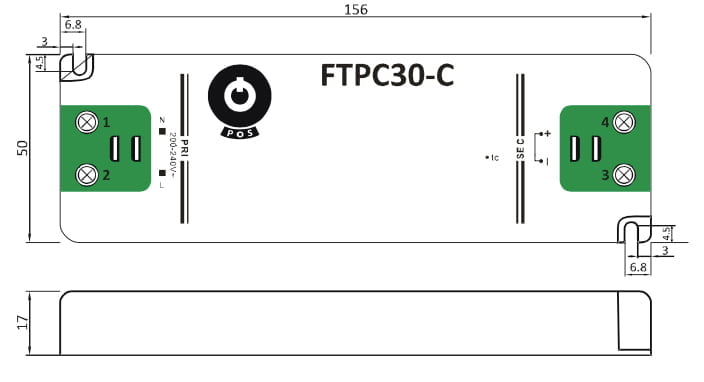 Specifications
| | |
| --- | --- |
| Käyttöjännite | 180-264V AC |
| Maksimi teho | 30 W |
| Lähtövirta | 2.5 A |
| Lähtöjännite | 12V DC |
| Tehokerroin | > 0.9 |
| Käyttöympäristö | '-20°C….+45°C |
| Mitat | |
| Paino | 150 g |
| Turvallisuus | EN 61347-2-13 |
| IP-luokitus | IP20 |
| Suojausluokka | II |
| EMC | -3, -4, -5, -6, -8, '-11; EN55024 |
| Harmonic current | |
| Takuu | |
| Sertifikaatti | CE |
| Tuotemerkki | POS |
Reviews
Only logged in customers who have purchased this product may leave a review.