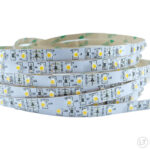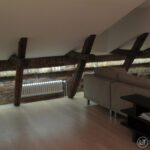 Ledtek
CRI90 LED strip 3000K 4.8W 12V
Previous lowest price was 14.00 €.
Description
CRI90 LED strip 3000K 4.8W 12V
Are you looking for LED strip for mood lighting? Would it be nice if the quality of an LED strip was excellent? Would it be nice if the light was not dirty-yellow-looking but instead pleasant warm white? What if additionally the LED strip had pre-soldered 2 meter cables on both ends and a proper 2-sided tape on the backside? That LED strip is right here!
You can choose a 2,5-meter LED strip. Then there will be 2 meters of cable on one end of the strip.
Voi can choose a full 5-meter reel and then there will be 2 meters of cable on both ends of the strip.
High CRI LED strip
High Colour Rendering Index (CRI) Ledtek LED strip. CRI +90 and blue light wavelength over 460 nm. When the wavelength of blue light is over 460 nm it means that it will not put strain on eyes unlike lower wavelengths. This LED strip is applicable to locations where "mood lighting" is required. Color of the light is warm white.
Mood lighting
Indirect lighting
For stairs behind the hand railing or steps.
Cabinet lighting
Curtain cases
Drawer lighting
Installing LED strip
In addition to LED strip you will need a 12 volt LED driver and optionally a dimmer. To make things easier with installation, there are 2 meters of cable on both ends of the reel. You can cut appropriate lengths from the strip and you have connection cables at the ready. You don't necessarily need connectors or soldering. If you need some, pick 8mm connectors.
Here a few recommended LED drivers for this LED strip:
The above mentioned LED drivers have enough power for 5 meters, in other words a full reel. If you plan to connect for example two reels then you will need more power. For 10 meters we recommend for example this GLP 75 Watts pro series driver.
If LED driver does not have a power plug already, it can be attached to it without a problem. Power plugs and other accesories can be found here.
Usually it is recommended to use aluminum profiles for LED strip installations. For this strip it is optional, however, because the strip will not warm up considerably.
Fast and easy to install!
On this video we connect LED strip to a LED touch switch/dimmer.
Specifications
| | |
| --- | --- |
| Tuotemerkki | Ledtek |
| Himmennys | |
| Katkaisuväli | 5 cm |
| Käyttöjännite | 12 V DC |
| LED-määrä | |
| LED-valmistaja | San'an |
| Nauhan korkeus | 2.2 mm |
| Nauhan leveys | 8 mm |
| Rullan pituus | 2.5 m, 5 m |
| Sertifikaatti | CE |
| Suojausluokka | IP20 |
| Suositeltu käyttöympäristö | |
| Takuu | |
| Teho | |
| Valovirta | |
| Värilämpö | 3000 K |
| Värintoistoindeksi | 90+ |
Reviews
Only logged in customers who have purchased this product may leave a review.