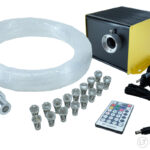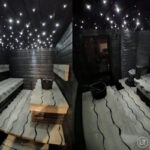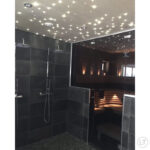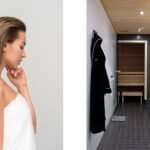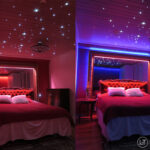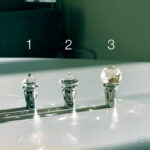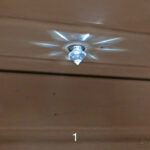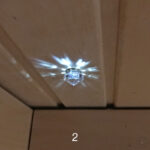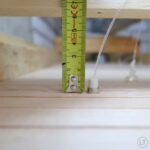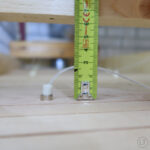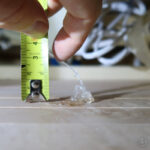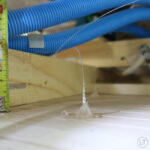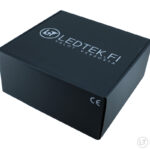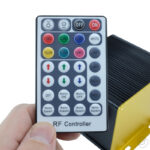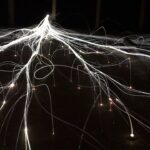 Ledtek
LED Starlight Set 316x5m Optic Fiber Light RGBW
Description
LED Starlight Set 316 x 5 Meters RGBW Multi Color
RGBW LED starlight optic fiber set with USA CREE XP-G LED. LED starlight sets from us with over 10 years' experience. You can ask for tips and other helpful information information by email or by phone and Finnish/English instruction manual is included. Free shipping for this product. Discount coupon not applicable for this product.
RGBW remote controller included, with which you can adjust the color blinking effect on/off, dimming and lights on/off. The projector can be installed in such a way that it can be turned on/off from a normal light switch. Dimming, blinking effect and color adjustment work only from the remote controller, but it probably isn't necessary to configure them every time. You can set a desired configuration and put the remote controller in a cabinet. Memory function keeps the same settings when using a wall mounted light switch. Really elegant black/gold LED projector that has a new quieter engine than before. This golden and the blue/black LED projectors both have the same new quiet engine. The engine is in use only when the blinking effect disc is rolling. When blinking effect disc is not rolling the engine is completely silent.
Default crystal is a diamond-shaped nr. 1 (check the product image). If you like, you can also pick type 2 or 3 or make a mix of each. If you wish a certain amount of certain crystals etc. let us know in the comment section of your order. Without comments the package is provided with crystal nr. 1.
RGBW remote controller:
Various settings available in remote controller. If you require different colors and programs from starlight sky, this one will provide. If you like single color white without blinking and flickering, it can be done as well with a couple pushes of a button on the controller. In remote controller there are included features such as
On/off
Dimming
Blinking effect disc on/off
4 speed levels for the engine that sets the speed of blinking.
Quick buttons: red, green, blue, yellow, turquoise, purple and white
3-step color jump mode
7-step color jump mode
3-color fade effect (northern lights)
7-color fade effect (northern lights)
Package includes:
Optical fibers (316 pcs)
Optic fiber engine/RGBW LED projector
12V DC Mean Well outlet power source
Decorative crystals for fibers (16 pcs)
Fitting piece for connecting crystal and fiber (16 pcs)
RF remote controller, RGBW
Instruction manual
1 mm drill bits 10 pcs
1,5 mm drill bits 2 pcs
We have designed new packages for LED starlights and all new sets are delivered in a stylish black box 🙂
Good to know:
Q: Can fibers be installed in sauna ceiling?
Answer: Yes they can. Above the sauna heater/stove it is recommended to cover the fibers either with crystals or sauna stove lens. When crystals are used, the weakest link is the glue used in the crystal and it is heat resistant up to 130°C. The crystal can withstand pretty high temperatures. The crystals are originally meant for the thicker 1,5 mm fibers. If you'd like extra crystals you can also use the thinner fibers. You can put for example one, two or even three of those in one crystal. The hole size of the fitting piece needs to be increased if you put more fibers in but that should be no problem for a handyman.
Q: Are fibers cutable?
A: Yes they are and it is common to cut some or all of them. During installation bring the fibers 10-15 cm below the ceiling paneling and apply a little bit of glue on the topside of the panel around the fiber. Finally, cut the fibers at the level of the ceiling paneling by using side cutters. It is usually recommendable to leave the fibers somewhat evenly long for the whole project so that the starlit sky looks evenly lit. 1 meter long fibers are brighter than 5 meter long fibers. As a novelty product we have side cutters available designed for cutting the fibers.
Question: I want this RGBW set, but I would like more fibers. Is it possible to have more fibers?
Answer: Yes it possible. We can deliver this set with a 100, 156, 216, 316 or PE16 fiber bundle. We can also make custom fiber bundles in our own workshop. Changing the bundle affects the price. More information available from our custom service.
Question: I have electrical cable (MMJ) at the installation spot. I do not need a plug power source. Can the power source be switched?
Answer: Yes it possible. In place of the plug power source we can deliver 20W POS 12V LED driver + quick connector or GLP Pro series 35W 12V waterproof LED driver + quick connector which will match the projector directly. Changing the driver may affect the price. More information available from our custom service.
Information on product images:
The sauna in the first image is 1,8 m x 2,4 m = 4,3 m2 and there is a 100-piece set in the sauna.
You can find more information about the project on an article made by Iltalehti 🙂
Bedroom starlit sky has been made with a 156-piece fiber set. With this 100-piece set you can achieve similar end result but there will be fewer stars.
Optical fiber is either an end-to-end or a side-lighting product. End-to-end lighting models have a coating that directs the light towards the other end of the fiber. Side-lighting models do not have this coating which is why the fibers will also light up from the side. Side-lighting fibers are used for example in situations such as when lighting curtains are created with optical fibers. Starlight sets by Ledtek are end-to-end lighting models. On the enchanting video below you can see how the fibers direct the light towards the other end. The video has been recorded in Finland and there are 316 fibers in this particular project.
Specifications
| | |
| --- | --- |
| Kuitujen määrä | |
| Kristallien määrä | |
| Kuitujen pituus | |
| Tuikekiekko | |
| Valon väri ja LED | RGBW 12 W Cree XPG LED USA |
| Valovirta lumen | 325 |
| Käyttöjännite | |
| Kuitukoneen mitat | |
| Suojausluokka | IP20 |
| Teho | 15 W |
| Takuu | |
| Sertifikaatti | CE |
| Tuotemerkki | Ledtek |
Reviews
Only logged in customers who have purchased this product may leave a review.