Description
Triac Dimmable LED Driver 75W 12V
POS Triac Dimmable LED Driver. Decent amount of 75 Watts of power is enough for e.g. 5-6 meters of 10W 12V COB LED-strip. This is both Leading edge (RL) and Trailing edge (RC) configurable. Complete adjustability can be achieved with for example ABB 2-100VA dimmer. Electrical number 2619376. Other manufacturers have compatible dimmers for this driver as well. For example Ensto, Schneider and several other generally used brands in Finland.
If you would like a remote controllable LED dimmer, you will not need this driver. If you would like an LED dimmer that is remote controllable, a suitable LED driver in that case is a normal non-dimmable LED driver where the dimming happens after the driver. In non-dimmable drivers there is no mention of triac, dali or other dimming techniques that would happen on the front side of the driver. For non-dimmable drivers there are several good LED dimmers and those you can find in our LED dimmers category.
Installing a dimmable LED driver
This LED driver is suitable for example for 12V DC LED strips, 12 DC LED downlights, 12V DC LED spotlights, etc. Enough power for example for 5-6 meters of 10W COB LED strip. The height of this LED driver is 31 mm and that's what makes it a quite conveniently sized LED driver. Regarding safety, this driver has a fault protection, overload protection and overheat protection. Out of these the fault and overload protection function with a power cut principle. It means that in a problem situation the LED driver will start to cut the power and makes the lights blink. Power cut continues until fault has been fixed. Overheat protection cuts the power from 12V side –> lights turn off. Lights can be turned on by turning the power back on. The protection works the same way in other high quality LED drivers as well. The driver cools itself with the surrounding ventilated air. So it is recommended to install in such a place where the warm air gets to mix with surrounding air.
Sufficient LED driver output
Maximum power output of this dimmable LED driver is 75 Watts and operating voltage 12 Volts. When you're thinking about a suitable driver for your LED project, it is recommended to pick a slightly more powerful LED driver than what the maxium load is going to be. Here you can check out a great blog post about choosing LED drivers . The output of this driver is enough for e.g.:
Max 14 meters of 4,8W LED strip
Max ca. 6,5 meters of 10W COB LED strip
Max 11-12 pcs of 5 W LED downlights
Max 11-12 pcs of 5 W LED spotlights
Max about 20 pcs of 3 Watt LED spotlights
Compatible tested dimmers:
Additional compatible dimmers will be added as more testing situations occur.
Benefits:
flicker-free dimming
Smooth adjustment
Slim design
Overload protection
Overheat protection
Fault protection
Full scale dimming 0% – 100%
10% minimum load
Safe TUV-CE, RoHS
Applications:
12V LED strips
12V LED downlights
12V LED spotlights
12V LED modules
12V small LED spots
Dimensions and coupling instruction:
The general safety distance from LED driver to surrounding materials is 25 mm above and to the sides. Usually this is not a problem even in slim ceiling roofing. A more typical problem in low roofings is whether the driver will fit through the mounting hole onto the celing paneling. The length of this driver is 170 mm, so make sure whether it will fit through the mounting hole or not. If there is a place for the driver near a service hatch then the problem is easy to solve.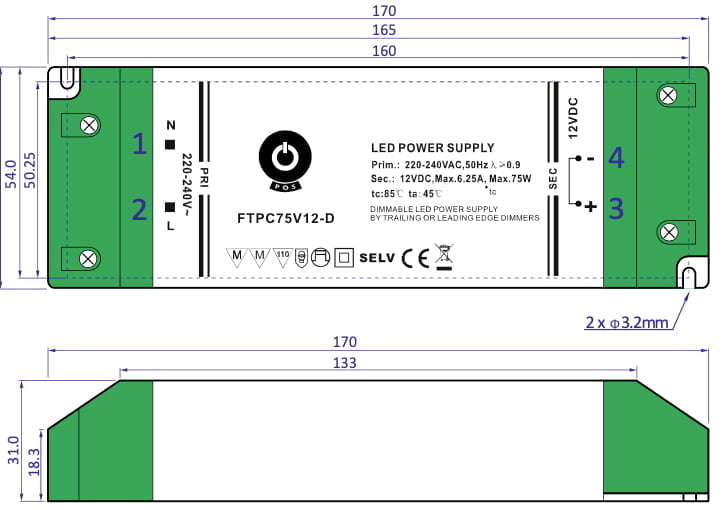 Specifications
| | |
| --- | --- |
| Väri | |
| Käyttöjännite | 200-240V AC |
| Maksimi teho | 75 W |
| Lähtövirta | 6.25 A |
| Lähtöjännite | 12V DC |
| Tehokerroin | > 0.9 |
| Käyttöympäristö | '-20°C….+45°C |
| Mitat | 170 x 56.8 x 31mm |
| Paino | 250 g |
| Turvallisuus | |
| IP-luokitus | IP20 |
| Suojausluokka | II |
| Turvallisuus standardit | EN 61347-1, EN 61347-2-13 |
| EMC | -3, -4, -5, -6, -8, '-11; EN55024 |
| EMC standardit | EN55015, EN55024, EN61000-4-11, EN61000-4-2, EN61000-4-3, EN61000-4-5, EN61000-4-6, EN61000-4-8, EN61547 |
| Takuu | |
| Sertifikaatti | CE |
| Tuotemerkki | POS |
Reviews
Only logged in customers who have purchased this product may leave a review.