Description
LED Driver 200W 12V
Waterproof and well protected LED driver 200W 12V that is perfectly suitable for example for 12V DC LED strips, 12V DC LED spotlights, etc. The height of this LED driver is only 43.5 mm and length is 232 mm. Suits well for moderately sized and a little larger LED projects. For example kitchen under cabinet lighting + on top of the cabinets + plinth LED strip. Regarding safety, this one has a fault protection, overload protection and overheat protection and that's how it's supposed to be.
Dimming LEDs
This driver cannot be dimmed but you can install a LED dimmer normally between the driver and light source. This driver will not squeak, so it is silent with dimmers as well. Very often in LED drivers there is a small squeakiness feature when used with an LED dimmer. Squeakiness occurs when light output power is at about 80% and it really is an irritating sound if you have accurate hearing. This driver is silent.
Benefits: safe, high quality for a fair price, care-free
Installing LED driver
This LED driver is suitable for e.g. 12V DC LED strips, 12V DC LED downlights, 12V DC LED spotlights, etc. Enough power output for example for 18 meters of COB 10W LED strip. Regarding safety it has short circuit, overload and overheat protection. Out of these the fault and overload protection function with a power cut principle. It means that in a problem situation the LED driver will start to cut the power and makes the lights blink. Power cut continues until fault has been fixed. Overheat protection cuts the power from 12V side –> lights turn off. Lights can be turned on by switching the power back on again when the driver has cooled off.
The protection works the same way in other high quality LED drivers as well. The LED driver keeps itself cool with the surrounding ventilated air, so install it in such a place where the warmth coming from the driver gets to blend with surrounding air.The driver must not be placed in a tight shoebox where the air will warm up and eventually trigger the overheat protection of the driver. In kitchen a suitable place is for example on top of the cabinets.
Sufficient LED driver output
The maximum power output of this LED driver is decent 200 Watts and operating voltage 12 Volts. When you are thinking about a suitable driver for LED installation, it is recommended to pick a LED driver with a little more output than what the maximum load is going to be. We have a great blog post about choosing LED drivers and power outputs and you can find it here.. The output of this driver is enough for e.g.:
Max ca. 38 meters of 4,8W LED strip
Max ca. 18 meters of 10W COB LED strip
Max ca. 36 pcs of 5W LED downlights
Max 36 pcs of 5W LED spotlights
Max ca. 58 pcs of 3W LED spotlights
As you can see from the amounts presented, LED drivers with this much power output usually are intended for LED strip projects. For smaller spotlights it might have a little bit too much power in reserve. You can have different kinds of LED strips that require different amounts of power connected to one LED driver. You can do for example so that you have this 200W LED driver and 2 or 3 pcs of 1x8A wireless receivers and after them LED strips nr. 1, nr. 2, and nr 3. Like this you can make 3 groups. You don't necessarily need separate drivers.
Other info:
Splash water proof LED driver
Passive cooling (no fan cooler)
Built-in active PFC
Wires on both primary and secondary sides.
Regarding safety this one has overload, fault, overvoltage and overheat protection (so every protection there is)
Safe to use with no load.
Can be connected to continuous current
Dimensions and coupling instruction:
The common safety distance recommendation from LED drivers to surrounding materials is 25mm above and to the sides. When you're thinking about mounting location for the driver, make sure there will be enough space around it. A driver with this amount of power will heat up if there is a high load. Install the driver in such a place where there will be room for it to cool off and that it is in an accessible place so that its condition can be checked when/if necessary. If the driver is mounted close to for example a service door then it will be easy to check.
If needed, you can add a plug to the driver. Plugs available in our LED connectors category.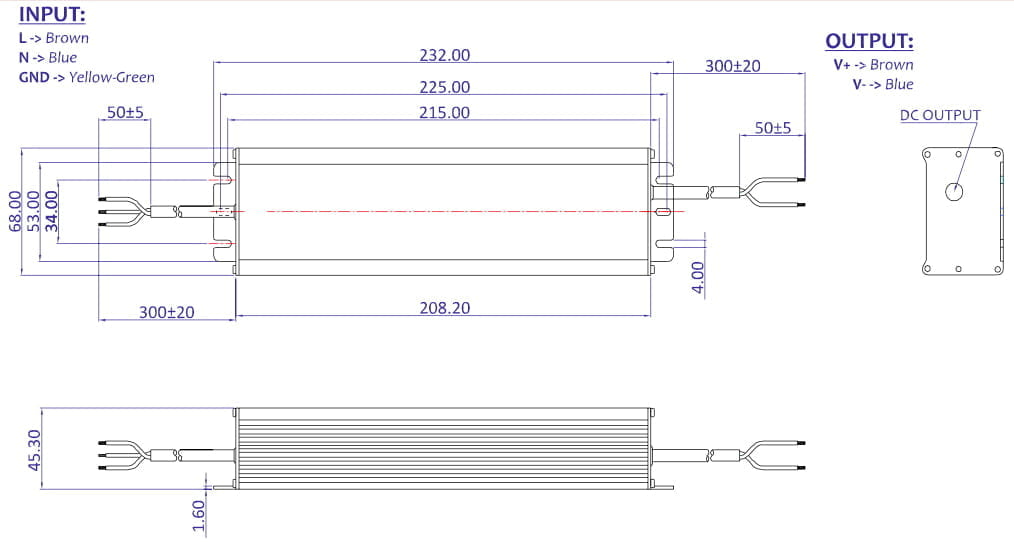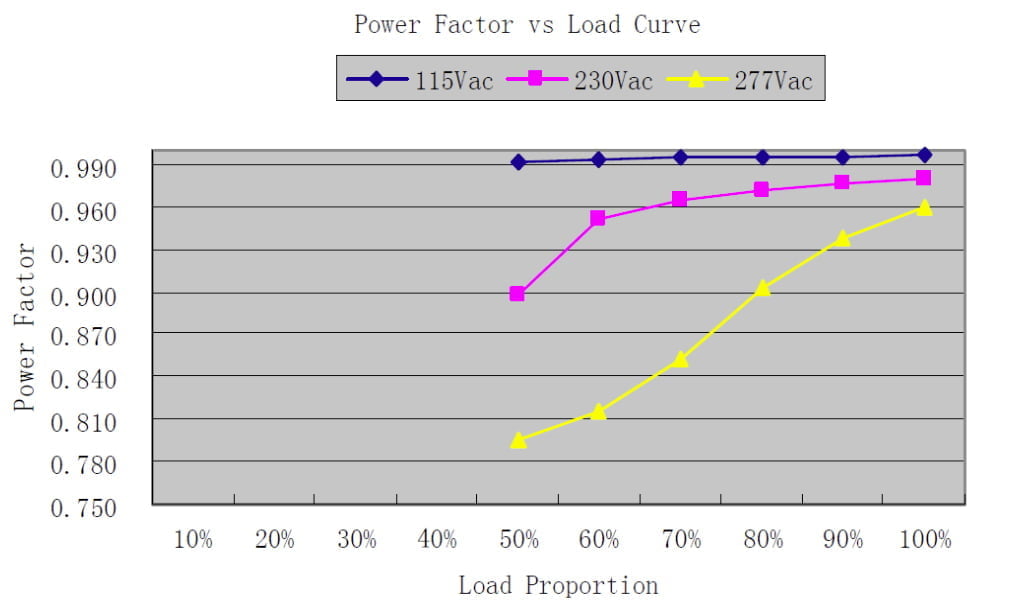 Specifications
| | |
| --- | --- |
| Käyttöjännite | 100-277V AC |
| Maksimi teho | 200 W |
| Lähtövirta | 16.67A |
| Lähtöjännite | 12V DC |
| Tehokerroin | > 0.96 |
| Käyttöympäristö | '-40°C….+60°C |
| Mitat | Length 232, width 68, height 43.5 mm |
| Paino | 1,35 KG |
| IP-luokitus | IP67 |
| Suojausluokka | I |
| Turvallisuus | Fault protection, Overheat protection, Overload protection, Overvoltage protection |
| EMC | Certifications EN55015; IEC61000-3-2; IEC61000-3-3; IEC61547 |
| EMC standardit | Certifications EN55015; IEC61000-3-2; IEC61000-3-3; IEC61547 |
| Turvallisuus standardit | Fulfills requirements EN 61347-1, EN 61347-2-13 |
| Takuu | 24 months |
| Sertifikaatti | CE |
Reviews
Only logged in customers who have purchased this product may leave a review.