Description
Natural light for home and public places
High CRI powerful Ledtek COB LED strip. The quality of light is excellent CRI90+ which makes it a pleasant light. This LED strip is suitable for projects that require stronger lighting. Light output 1248 lm/meter. The color of the light is comfortable warm white 3000K. This is our most powerful COB LED strip. Luxury light output, 480 small LEDs/meter.
Quality of light matters
Color Rendering Index (CRI) tells you how well different colors are reflected by the light source in comparison to sunlight. Index measured in range 0–100. Perfect 100 tells that the colors under the light source look the same as they would be under natural sunlight.
High CRI value is important especially in photography, stores, markets, restaurants and other places where colors are required to look as natural and rich as possible. Is there any other more important place than home where a lot of time is spent? It is comfortable to spend time in a high-quality-lit spaces.
Measuring CRI value requires a special type of light tester. We have such a device. CRI of this LED strip is over 90 which means that the quality of light is excellent. You can check accurate test results below.
CRI100 = perfect result, CRI over 90 = excellent quality of light, CRI over 80 = good quality of light
Ledtek COB LED strip
With COB LED strip you can achieve a premium class uniform dotless light without aluminum profile. Just as with our high density SMD LED strips, the same kind of uniform dotless light can be achieved with COB LED strips. In comparison to normal LED strips we have 2 meters of installation cable on both ends of the reel. This helps considerably with installation when you don't have to make an additional connection with traditional 20 cm long wires. With this COB LED strip you can hide the coupling like it should be done. You can dim COB LED strip the same way as our SMD LED strips. The surface of the LED strip is soft and anti-static. The width of this COB LED strip is 10 mm, cut points every 5 cm and operating voltage is 24 Volts. Protection class is IP20, so it is intended for indoor use. You can install it in damp places when you protect the LED strip with an LED aluminum profile + cover + endpieces. Then the possible strain from dampness will remain outside the profile and cover. At cut sections there are long copper points for soldering and connectors. The long copper points of this COB LED strip are better than short copper points that you can find in some normal LED strips.
Applications:
• LED strip for general lighting
• LED strip for kitchen interspace
• On cabinets for general lighting
• For stairs behind handrail or steps
• For shelf and level lighting
• For lighting profiles
• Curtain cases
• Indirect lighting
• Warm light
Is this LED strip dimmable?
Absolutely! Ledtek COB LED strips are dimmable. For dimming LED strips you basically have two choices.
Dimming happens after LED-driver
Dimming happens before LED-driver
When dimming is done after LED-driver, it happens with a so-called PWM-dimming (Pulse Width Modulation), where signal is being cut with fast sequencing. If PWM is done with a low Hz, final result is a flickering dimming. Flickering can cause headaches among other things. Low 200Hz PWM is something that you can find for example in cheap dimmers. We can provide you with high quality dimmers where PWM is a non-flickering 750Hz.
The other dimming option is to do it with a dimmable LED-driver. For this you will need a compatible light dimmer (LED dimmer) and Triac or DALI dimmable LED driver. In other words, the dimming signal comes from the front-end of the power source. Good dimmers are available such as those from ABB and Schneider.
What do you need for installation?
In addition to LED strip you will need an LED driver and optionally a dimmer. To make things easier with installation, there are 2 meters of cable on both ends of the reel. In typical LED strips there is only a 20 cm cable on one end of the reel. You can cut appropriate lengths from the strip and you have long connection cables at the ready. COB connectors or soldering not necessarily required. If needed, choose 10 mm COB connectors.
Usually it is recommended to use aluminum profiles for LED strip installations. With COB LED strip it is not necessary. This LED strip is IP20, for indoors. You can install it in damp places when you protect the LED strip with an LED aluminum profile + cover + endpieces. A great profile for example 1707 aluminum grey, 1707 white, 1708 black, 1616 aluminum grey/black/white, 2310 slim.
Measurement results
Summary, CIE1931 measurement, CIE1976 measurement, CRI measurement, Spectrum measurement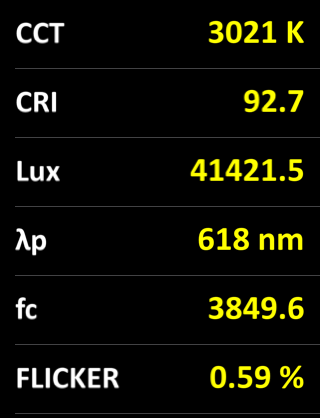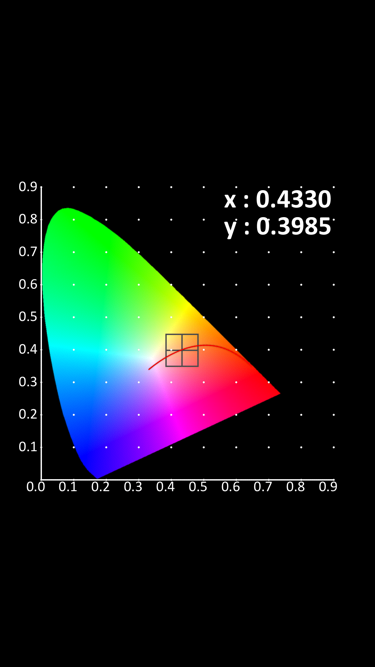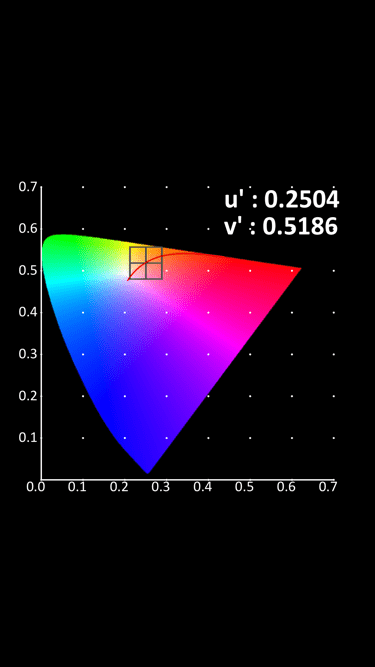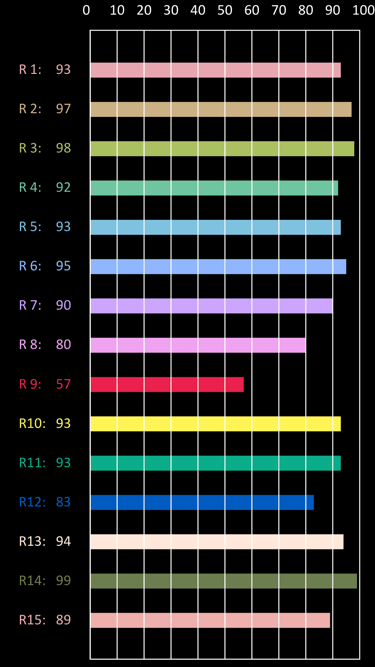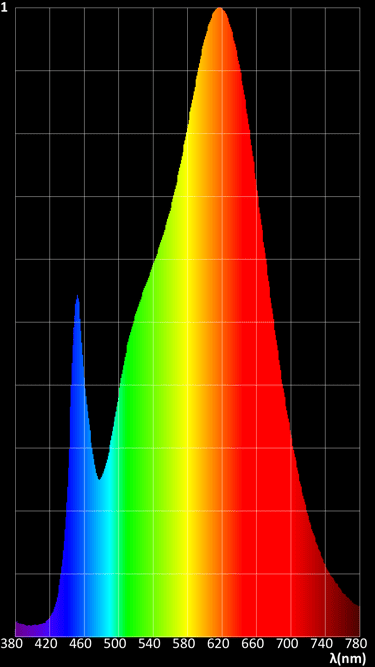 Specifications
| | |
| --- | --- |
| Käyttöjännite | 24 V DC |
| Himmennys | Dimmable with LED dimmers or with a dimmable LED-driver |
| Suojausluokka | IP20 |
| Suositeltu käyttöympäristö | Indoors |
| Värilämpö | 2980-3150 K |
| LED-valmistaja | San'an |
| LED-määrä | 480 pcs/meter |
| Teho | 12 W/m |
| Valovirta | 1248 lm/meter |
| Värintoistoindeksi | 90+ |
| Nauhan leveys | 10 mm |
| Nauhan korkeus | 2.4 mm |
| Katkaisuväli | 5 cm |
| Rullan pituus | 5 m |
| Takuu | 24 months |
| Sertifikaatti | CE |
Reviews
Only logged in customers who have purchased this product may leave a review.